A SWEET ANGEL BY MELINDA ELGOT
In loving memory of our precious daughter Naomi Kathryne Elgot
September 7, 2004 – June 25, 2013.
You are missed every moment, remembered every minute and loved with every beat of our hearts.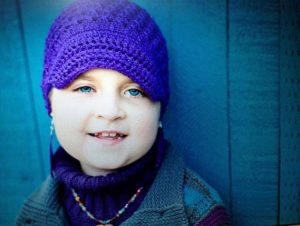 Though palliative care was a portion of our journey with our daughter's brain tumours, part of our coping began at her diagnosis. Through every step of the journey, openness and honesty with our daughter Naomi and our other children has been paramount. Though she was only five at the time of diagnosis, we always shared with her what was happening, gave her choices when possible and allowed her to have a voice in her own care. As our other children were three and one, we shared information with them in an age-appropriate language and amount. Never did they feel excluded from the process and when it came time to enter palliative care, we had an honest and tearful family talk. Honesty dispelled much of the fear.
These talks were often revisited on a daily basis as our daughter's illness progressed, but every time we answered honestly, sometimes through tears, but always truth. You know your children better than anyone and you will know how to speak to them.
Some purely practical things we did were to label the lids of medications (pain, morning, sleep, etc.), bring daily life aids in to the home (suction, commode, bath lift, etc.) and put out weekly emails about her condition to our team of doctors and nurses. We tried to have no daily expectations, as each day was truly a new adventure. Savour the good days, breathe through the tough, and make sure you take care of yourself.
We also brought on adult care to help out with our other children a few hours a day. This was usually the supper hour, when life gets busier for us all. This needs to be someone that can walk in without judgment and walk out still loving you all, even after seeing you at your worst, and be honest about your needs. We put out an email saying that our needs may change on a minute-to-minute basis, so if you get to our door with a meal, hug or help and we can't come or accept, know we still love and appreciate you.
Lastly, one thing we said many times was that we daily went to the graveyard, but we didn't live there. Be prepared for the worst, but don't camp there. We sat down one night for a 45-minute rapid-fire conversation and planned the funeral. We did this so we could live and enjoy the days we had. It is difficult to pray for a miracle while planning a funeral, but it is possible and we were freer for it.
Blessings to you all on this difficult journey.
"How lucky I am to have something that makes saying goodbye so hard."
-A.A. Milne