Specialized Products
It is often difficult to find footwear for children that will offer rigid support or have the ability to go over ankle-foot orthotics (AFOs). We have listed a few options.
It is a good idea to speak with your physiotherapist or orthotist about footwear options for your child. Everyone has different feet and different support requirements.
Orthotic shop
This website was recommended by an orthotist at the Glenrose and it has a variety of shoes and boots available that are made specifically for AFOs. There is a handy measuring guide you can print off to ensure accurate sizing. Go to orthoticshop.com/manufacturers.php for more information.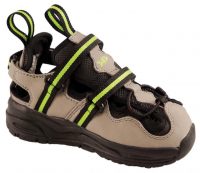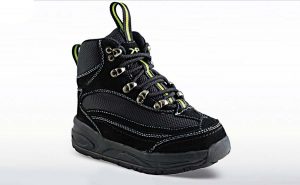 MEC Boots
The MEC Toaster Booties cost only $27 and they go over AFOs easily. Although they don't offer the support a rigid shoe does, they can be used to keep little feet warm during a stroller ride or if the child is in a wheelchair. MEC in Edmonton has many different colours and sizes.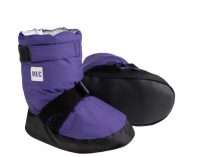 Pedro Shoe
If your child requires a rigid shoe, check out Pedro Shoes. There are loads of styles and different amounts of support. You may want to have a conversation with your physiotherapist or orthotist about whether this shoe is a good match for your child.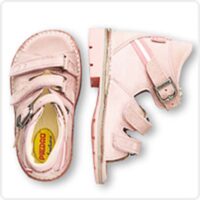 TIP: If you haven't already, ask your FSCD worker to have shoes and clothing put on your contract.
Hatch Backs
These shoes literally open up. Slide the foot in and do the strap up. Go to hatchbackfootwear.com to see more.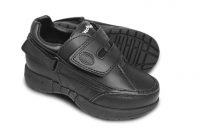 Stonz
Stonz boots are a lightweight boot that is good to -40 C with the insert and -20 C without. Use the double toggle to tighten boots. Stonz boots are made in Canada. Visit stonzwear.com
Mom Tips
A mom of a young girl who loved wearing higher style boots, like cowboy boots, was unable to find a pair that was made to go over AFOs. She ended up taking her daughter's boots to a shoemaker and had him cut the back and insert a zipper so that her daughter could slide her foot in. Brilliant! We love this trick and can't wait to try it out.
You can also find a variety of shoes at regular stores that would work. You should look for ones that tend to be a bit wider to have room to slide the AFO and foot in easily. You may have to go up one size and try taking the insole out, if possible. Have the AFOs with you to try them out before making your purchase.
Special AFO socks can be very pricey to purchase. Some stores such as Children's Place have thin cotton socks with grips on the bottom that can be pulled up high to fit the height of the AFO.
You can often get three pairs for $10.
Another mom suggested the use of something like a cleat skin to cover over your child's running shoe if it is dirty and muddy out to help protect your AFO footwear. Go to cleatskins.com for ideas.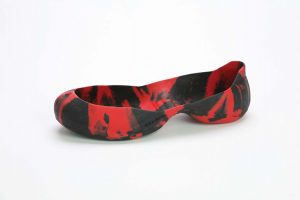 This and That
Glasses
Miraflex offers top-quality frames. They are designed with the child in mind, whether a few months old or an adolescent. Miraflex has over 20 years of experience with children's eyeware and offers the largest range of children's frames designed by experts to satisfy the more demanding professionals' requirements. These glasses are hinge free and metal free.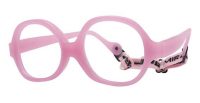 Walking helmets
Protecting children from falls when walking or from injury during sports is very important. This site offers a variety of helmets, even ones that can be customized for children with large or very small heads, opticoolheadgear.com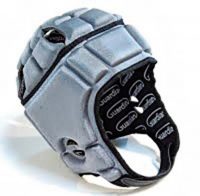 Nammu Swimming Hats
Water hats made for children with hearing aids, implants or tubes. nammuhats.com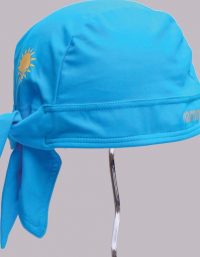 Silka Wear Bonnets
These are hats for children with hearing aids or cochlear implants. silkawear.com
Clothing
This site offers easy access clothing for all age groups. easyaccessclothing.com
Koolway Sports
Koolway Sports designed outerwear for people in motion while enabling them to achieve their maximum level of independence in all aspect of life. koolwaysports.com
Special Needs Life Jackets
pfd-a.com
Walking Canes
This site ships to Canada and sells all types of walking aids from Forearm Crutches to Quad/Tripod Canes and accessories. walkeasy.com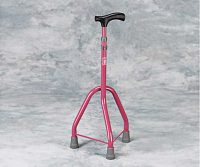 Pediatric Single Cane
wayfair.com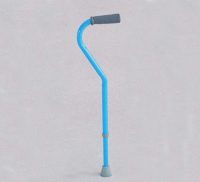 TIP: Some Superstore locations sell a range of pediatric canes.
Keekaroo or Special tomato
Finding a chair that provides support and durability can be a difficult task. This chair is amazing! We love it. There are many makes and models of this chair. It comes with the tray if you're using it as a highchair. Both foot rest and seat board can be adjusted. The cushions come in a variety of colors and are washable. They also have a seat cushion that is flat for older children, and footrests are an option. keekaroo.com or specialtomato.com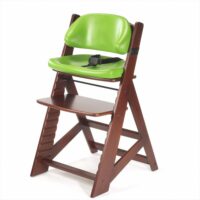 TIP: If you get a referral from an occupational therapist you can apply to an association or charity to help with the cost of some of these specialty items.
Jack-of-All-Trades
Let's be honest – a parent is not only mommy or daddy. We wear many hats, especially when our children have medical issues or disabilities.
One of those many hats is that of the inventor. Below are a few adaptive ideas from crafty parents.
Stairs, parallel bars, and ladders
Specialty equipment is very expensive, but if you have a reliable handyman, it is possible to have equipment built for your home at a reasonable price. Here are a few items that we had made.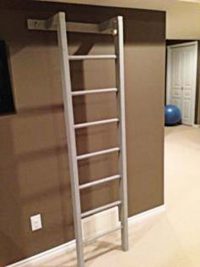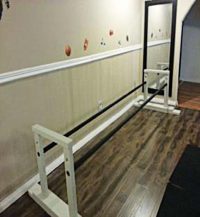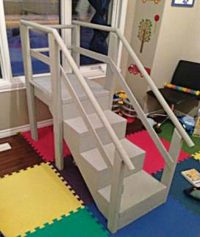 Bikes
Biking is a great activity that helps children strengthen their legs with pedaling and their arms with steering, and it can promote independence. This trike was purchased at Toys "R" Us and an uncle and shoemaker made the foot pedals. Biking at the mall in winter can keep your child active.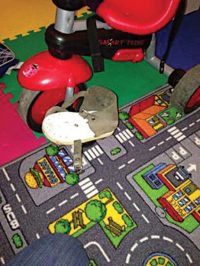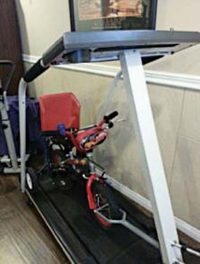 One family adapted the bike on a treadmill for their son. He is a mild paraplegic, so the treadmill set on very low helps with initiation of the pedaling motion. This is an idea, but it is essential that mounting is secure and your child is always monitored.
Online and catalogue equipment resources
-Flaghouse: flaghouse.com
-Abilitations: abilitations.com
-Special Needs Toys: specialneedstoys.com/can
-Adaptive Mall: adaptivemall.com
-Sensory Edge: sensoryedge.com
-E-Special Needs: especialneeds.com