Medic Alert Identification and Jewelry
It is truly amazing how far medical alert jewelry has come. Boys and girls of all ages can now find bracelets, necklaces and labels that are fashionable and practical. Having a piece of jewelry your child likes makes it easier to expect them to wear it daily. Children don't always understand the importance of medical alert bracelets. For a health professional to have the information on a medical alert bracelet or necklace available in an emergency situation can literally mean the difference between life and death.
There are many sites that offer fantastic medical alert items and can be found on the intranet. A few that we found are:
Lauren's Hope
laurenshope.com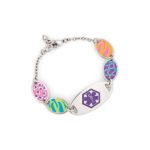 Lovable Labels
lovablelabels.ca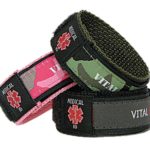 MedID.com and Sticky Jewelry
medids.com and stickyj.com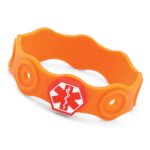 The Canadian MedicAlert Foundation
The Canadian MedicAlert Foundation is a charitable organization that offers a No Child Without program to children in participating schools. Children from age four to 14 receive the MedicAlert membership for free. Visit nochildwithout.ca for information on enrolling.